Topics on this page

:
NOTE

: Clicking on any purple text below, whether underlined or not, will open the link in a new window/tab .

*************************************************************************************
COMMUNITY RESOURCES
Peel Region:
East Mississauga Community Health Centre (EMCHC), a branch of LAMP Community Health Centre, is a community based, charitable organization that believes in creating greater access to health resources in the community. They provide health care services, health promotion programs, and community support services. They currently offer 2 LGBTTIQQ2S+ focused programs:
Trans Activate Drop-In (Wednesdays 6PM – 8PM): A weekly supportive and social drop-in space for members of Trans & Gender-Diverse Communities.
QX Drop-In (Mondays 6PM – 8PM): A weekly drop-in support and social group for members of LGBTTIQQ2S+ Communities.
For more info and access to Zoom links, email willr@lampchc.org
Moyo Health and Community Services – Based in Brampton, Moyo provides education and support services for people living with, affected by, and and at systemic risk of HIV. Moyo also provides counselling on sexual health, and offers programs such as Gender Journeys, Totally Outright, and more. (see Access a Service).
Rainbow Salad – A Peel-based directory of social, mental health, and medical resources for 2SLBGTQ+ individuals. See their Service Provider Directory and Events pages for more information on community resources and events.
Associated Youth Services of Peel – A multi-service agency for both families and youth that includes Youth Beyond Barriers, a program that provides confidential services for youth ages 12-17 who identify as 2SLGBTQ+. This program offers in-person and/or virtual individual counselling, weekly youth groups, and community capacity building around 2SLGBTQ+ inclusion. For more information on how to register, call AYSP's Youth Intake Specialist at 905-890-5222 or email ybb@aysp.ca
Rapport Youth & Family Services – Offers several youth engagement programs across the Region of Peel, now offered virtually. Diverse youth programs can be found in their ECLYPSE Calendar, including group discussions on social justice, gender, and coping with stress. They also offer an ECLYPSE Youth Employment Program, and varying services by area, click each area to see their local drop in centre locations.
Tangerine Walk-In Counselling – A free service for children and youth up to their 18th birthday, and their families who live in the Peel Region, providing counselling sessions for a wide range of reasons.
halton:
Positive Space Network – Provides support for LGBTQ youth and families. Click on the "Youth" tab for information about LGBTQ drop-ins (in four Halton locations) and Trans/Gender-Diverse ConnecTions. ConnecTions is a program that is held on the first Monday of every month at 491 Pearl St, Burlington. Children, youth (to age 24 yrs) and their parents/caregivers meet in 3 separate groups that run concurrently.
Just Be You – Youth-led and youth-focused, Just Be You provides youth (ages 15 to 25) living with mental health issues a place to go, hang out, and have fun—without judgment, without stigma—on their terms. It allows them to just be youth. While doing that they also learn coping and resiliency skills, make social connections, and learn about resources. To access their services or for more information contact mestrada@supporthouse.ca or text/call 905-805-7323 or 1-833-845-9345, 201
Pflag – Halton Region For information contact email haltonon@pflagcanada.ca or try 1-888-530-6777 x 582
Toronto:
Transgender Clinic at SickKids Hospital – Medical care and support to transgender adolescents, from onset of puberty up to 18th birthday (a referral for a 17 yr old would not be accepted and the individual would be advised to instead seek a referral to Dr Joey Bonifacio, see below). Referrals can be done by a family doctor online ie. from their transgender clinic website. For further information call Cathy Maser at 416-813-7654 x 203569.
Dr Joey Bonifacio MD, Adolescent Medicine Specialist Dept of Pediatrics, St Michael's Hospital, provides support and medical transitioning for transgender children, teens, and young adults to their 26th birthday. Referrals accepted from family doctors and nurse practitioners. Tel: 416-867-3655 (Pediatric Out-Patient Dept). Fax referrals to: 416-867-3736.
Church Wellesley Health Centre – provides medical care and counselling to LGBTQ individuals, including medical transition support for transgender individuals, t: 416-463-1500
Transition-Related Surgeries at Women's College Hospital – "WCH is dedicated to supporting the health and wellness of our transgender and gender diverse clients. The surgical team of the Transition-Related Surgery (TRS) Program includes specialists in plastic surgery, urology, gynecology and anesthesiology as well as nurse practitioners, nurses and other health care providers. This program represents the first public hospital-based surgical program in Canada focused on providing safe and timely access to transition-related surgical care."
Central Toronto Youth Services, "Pride and Prejudice" – counselling and support groups for LGBTQ teens and young adults, and their parents and caregivers, located at Church and Wellesley; Transceptance is a parent drop-in support group that meets monthly
The 519 – supports the LGBTQ community with counselling and programs for youth to seniors, for newcomers, etc; located at 519 Church St (at Wellesley)
Sherbourne Health Centre – LGBTQ Health – Meeting the physical, mental and emotional needs of LGBTQ people, and including primary care (doctor or nurse practitioner), wellness workshops, support groups, and trans health care. Accepts patients in the Sherbourne catchment area, not out-of-region.
Supporting Our Youth (SOY) – a program (through Sherbourne Health) that supports the health and well-being of all queer and trans spectrum individuals who are 29 years old and younger, with groups, programs and events
Toronto District School Board Guidelines for the Accommodation of Transgender and Gender Non-Conforming Students and Staff
The Dresscode Project – listing of hair salons that are LGBTQ-welcoming, safe, and non-judgmental
Senior Pride Network – a blog and a listing of resources, programs and events for age 50+
GetREAL is a Canadian non-profit organization whose mission is to support LGBTQ+ youth and create allies in schools across Canada. LGBTQ university students offer inclusivity workshops to schools, camps, and businesses.
ONTARIO:
Rainbow Health Ontario – province-wide program (through Sherbourne Health) that works to improve the health and well-being of LGBTQ people through education, research, and public policy advocacy. RHO has a database of resources and service providers, and provides training, guidelines and protocols to healthcare professionals about LGBTQ health including The Trans Primary Care Guide (hormone therapy, etc).
OHIP-Funded Sex Reassignment Surgery (top and bottom surgery) (1) 2016 Guidelines Ministry of Health and Long Term Care (2) Gender Confirming Surgery (3) Transition-Related Surgery FAQ's (4) OHIP covered FTM criteria
Name and Gender Marker Change – Change Name (How to change a first, middle or last name in Ontario.) (it takes about 6-8 weeks to receive the updated Birth Certificate) / Change the Sex Designation on Your Government IDs
************************************************************************************
ONLINE and Telephone Support
LGBT youthline (Ontario) – phone (toll-free), text, chat, email support for LGBT youth who have a question, concern, or just need to talk
Kids Help Phone (Canada) – 24/7 telephone counseling support; website includes an LGBT page with articles such as identifying as LGBTQ and coming out
Trans Lifeline (Canada) +1-877-330-6366 Trans Lifeline's Hotline is a peer support phone service run by trans people for our trans and questioning peers. You can call them if you need someone trans to talk to, even if you're not in crisis or if you're not sure you're trans.
Gender Creative Kids – a Canadian site with an online support group for parents, a Resource Library and a Service Directory
Gender Spectrum – US-based site with information and forums for teens and parents
*************************************************************************************
BLOGS, Articles AND PUBLICATIONS
BLOGS
Love is Pyaar – Ritu is a mom blogger. Passionate about sharing her thoughts about being a mom of a totally phenomenal queer south asian son. "I want to share my family's experience with our son "coming out" and help support and guide other south asian parents to approach their child's "coming out" with love, compassion and bravery."
FTM blog –  a resource page on many FTM topics by an Ontario surgeon who specializes in top surgery for trans individuals.
Bisexual  – Blog site providing information and answering questions, in order to better understand ones own sexuality or that of a loved one.
Transforming Love – Blog site supporting mothers of transgender children.
Articles
6 Ways to Support Your Non-Binary Child
When Your Child Comes Out: 6 Pieces of Advice From a Queer Teen
When Your Child Comes Out as Transgender : a Q+A – by parent of 23yr old FTM
Why Some Parents Experience a Child's Coming Out as a Loss
Transgender brains are more like their desired gender from an early age (Science Daily, May 2018)

How Science Is Helping Us Understand Gender – National Geographic
Publications
Rainbow Health Ontario (Toronto) has Brochures and Booklets on topics of LGBT health, mental health, relationships, and parenting gender independent children, and in-depth "Fact Sheets" eg. LGBTQ Mental Health / LGBT Sexual Health / Gender Independent Children
Rainbow Resource Centre (Winnipeg) has a number of brochures with titles including: Coming Out / Gay / Lesbian / Bisexual / Trans / Homophobia / Ally / Two-Spirit People of the First Nations / A Question and Answer Guide to Dating Trans Folks
Trans Student Educational Resources (US) has a number of educational graphics incl "Why Support for Trans Youth Matters" (emotional health statistics), the "Gender Unicorn", and "Gender Grammar".
BC Teachers Federation – The Gender Spectrum Glossary – a page of terminology (eg FTM, MTF, gender fluid)
Getting trans-competent care: How to work with your nurse or doctor – booklet developed by Vancouver Coastal Health 2006
Healthy Relationships for Gay Men and Healthy Relationships for Lesbians (Vancouver)
Getting Bi in a Straight World – informative booklet (UK) for bisexual individuals
Guide for When Your Parent(s) Come Out as Lesbian, Gay, Bisexual, Transgender, and/or Queer – 21 page article by COLAGE, a national US group supporting youth and parents with an LGBTQ parent
Principles of Gender-Inclusive Puberty and Health Education – 36 page publication by genderspectrum.org (US-based, March 2019) that will be of interest to educators, and also parents and students. "All young people have a right to accurate information to make healthy, informed decisions about their bodies and their relationships. Beyond their own unique development, this includes understanding the diversity of human experiences they will encounter as adults." Gender Across the Grades is another resource.
ONLINE Media
Films
A Mother's Promise: You Can Be Yourself – 5 minute film from NY Times about a gender non-conforming child
Lead With Love – 35 minute documentary that answers the question "What do I do if my child is gay?", providing comfort and guidance for parents who have recently learned that their son or daughter is lesbian, gay, or bisexual
Growing Up Trans – 1hr 34 min documentary PBS/Frontline (2015)
Gender Revolution – 1hr 35 min documentary by National Geographic (2017), available on iTunes, Netflix, and YouTube. The accompanying guidebook is: A Discussion Guide (questions and information)
YouTube
There are many good videos prepared by LGBT individuals who tell their story or give guidance to their peers. These are a few examples. Trans guy on process leading up to medical transition (Toronto) / I Changed My Name (Ontario)/ Trans Guy Problems / To Parents Who May Have a Transgender Child / Transgender Q+A With My Dad (trans girl) / Bi the Way We Exist / Coming Out To My Parents (as bisexual)
*************************************************************************************
Books
WHERE TO FIND THEM:
Library – Mississauga Library System * / Halton Library System

*

Pflag Peel Region has a number of books that can be borrowed at the monthly drop-in meetings (see Events page)
Glad Day Bookshop 499 Church St Toronto (SE corner of Church and Wellesley)
And of course, Chapters, Indigo, and Amazon, etc.
Child
Be Who You Are by Jennifer Carr (2010) *
I Am Jazz by Jessica Hethel*
Red: A Crayon's Story by Michael Hall "… is about being true to your inner self and following your own path despite obstacles that may come your way. "
Be Who You Are by Todd Parr (2016)* "Picture book encouraging kids to be proud of what makes them unique, where they come from, and how they express themselves and see the world."
Introducing Teddy: A gentle story about gender and friendship by Jessica Walton "understanding gender identity and transition in an accessible and heart-warming story about being true to yourself and being a good friend".
Youth
George by Alex Gino "tells the story of Melissa, a fourth-grade girl who is struggling to be herself to the rest of the world. The rest of the world sees Melissa as George, a boy." An great book for adults too.
Gracefully Grayson by Amy Polonsky (2014) * "Grayson, a transgender twelve-year-old, learns to accept her true identity and share it with the world."
Sex Is A Funny Word by Cory Silverberg is"…a candid, inclusive, stereotype-defying, and absolutely wonderful primer on sexuality and gender identity …"
–
Teens
This Book Is Gay by Juno Dawson* is funny and frank as it addresses the anxieties young people may have about their sexuality and gender.
GLBTQ: the Survival Guide for gay, lesbian, bi, trans and questioning Teens by Kelly Huegal *
This Book is Gay by Juno Dawson * – "…what it's like to grow up as LGBT….frank, funny, fully inclusive book explores everything anyone who ever dared to wonder wants to know – from sex to politics, how to pull, stereotypes, how to come-out and more"
One in Every Crowd by Ivan Coyote * – "Ivan's eighth book is her first for LGBT youth, written for anyone who has ever felt different"
Beyond Magenta: Transgender Teens Speak Out by Susan Kuklin *
Some Assembly Required: The Not-So-Secret Life of a Transgender Teen by Arin Andrews * – first person account by transgender guy
It Gets Better: coming out, overcoming bullying, and creating a life worth living by Terry Miller * – "… essays and expanded testimonials … While many of these teens can't see a positive future for themselves, we can. We can show LGBT youth the kind of happiness, potential, and satisfaction their lives hold if they can just get through these early years".
Adult
Trans Bodies, Trans Selves: A Resource For The Transgender Community (2014) – Edited by psychiatrist Laura Erickson-Schroth, it covers health and wellness for transgender people.
Parents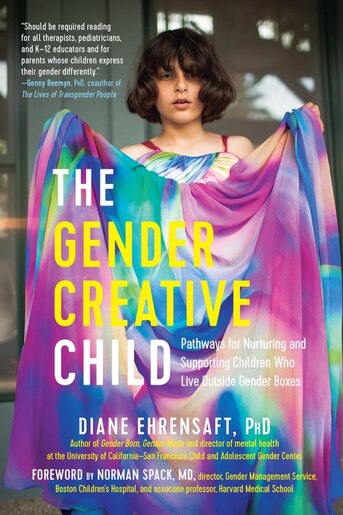 The Gender Creative Child: Pathways for Nurturing and Supporting Children Who Live Outside Gender Boxes by Diane Ehrensaft
Always My Child: A parent's guide to understanding of your gay, lesbian, bisexual, transgendered, or questioning son or daughter by Kevin Jennings *
At the Broken Places: A Mother and Trans Son Pick up the Pieces by Mary Collins and Donald Collins *
This is a Book for Parents of Gay Kids: A question and answer guide to everyday life by Dannielle Owens -Reid *
The Transgender Child: A Handbook for Families and Professionals by Stephanie A. Brill and Rachel Pepper * – "…for anyone with a child who is trans, might be trans, might be gender nonconforming…a culture-guide, a fear-allayer, a parent-empowerer, and an escort through the transgender".
Coming Around: Parenting Lesbian, Gay, Bisexual, and Transgender Kids by Anne Dohrenwend *
When your child is being bullied: real solutions for parents, educators and other professionals by J.E. DiMarco * – specifically Chapter 7 – Lgbt (Lesbian, Gay, Bisexual And Transgender) Children As Targets
The Unfinished Dollhouse by Alfano, Michelle (2017) * – "No parent is prepared for the moment when her daughter comes out to her–not as a lesbian, but as a person whose physical gender is out-of-keeping with his emotional and psychological gender-identity… what pronouns to use, how to disclose the information to friends, family, school. How to deal with the reactions–some of them surprising in a good way, some of them disappointing."