Books
WHERE TO FIND THEM:
Library – Mississauga Library System * / Halton Library System

*

Pflag Peel Region has a number of books that can be borrowed at the monthly drop-in meetings (see Events page)
Glad Day Bookshop 499 Church St Toronto (SE corner of Church and Wellesley)
And of course, Chapters, Indigo, and Amazon, etc.
Child
Be Who You Are by Jennifer Carr (2010) *
I Am Jazz by Jessica Hethel*
Red: A Crayon's Story by Michael Hall "… is about being true to your inner self and following your own path despite obstacles that may come your way. "
Be Who You Are by Todd Parr (2016)* "Picture book encouraging kids to be proud of what makes them unique, where they come from, and how they express themselves and see the world."
Introducing Teddy: A gentle story about gender and friendship by Jessica Walton "understanding gender identity and transition in an accessible and heart-warming story about being true to yourself and being a good friend".
Youth
George by Alex Gino "tells the story of Melissa, a fourth-grade girl who is struggling to be herself to the rest of the world. The rest of the world sees Melissa as George, a boy." A great book for adults too.
Gracefully Grayson by Amy Polonsky (2014) * "Grayson, a transgender twelve-year-old, learns to accept her true identity and share it with the world."
Sex Is A Funny Word by Cory Silverberg is"…a candid, inclusive, stereotype-defying, and absolutely wonderful primer on sexuality and gender identity …"
–
Teens
This Book Is Gay by Juno Dawson* is funny and frank as it addresses the anxieties young people may have about their sexuality and gender.
GLBTQ: the Survival Guide for gay, lesbian, bi, trans and questioning Teens by Kelly Huegal *
This Book is Gay by Juno Dawson * – "…what it's like to grow up as LGBT….frank, funny, fully inclusive book explores everything anyone who ever dared to wonder wants to know – from sex to politics, how to pull, stereotypes, how to come-out and more"
One in Every Crowd by Ivan Coyote * – "Ivan's eighth book is her first for LGBT youth, written for anyone who has ever felt different"
Beyond Magenta: Transgender Teens Speak Out by Susan Kuklin *
Some Assembly Required: The Not-So-Secret Life of a Transgender Teen by Arin Andrews * – first person account by transgender guy
It Gets Better: coming out, overcoming bullying, and creating a life worth living by Terry Miller * – "… essays and expanded testimonials … While many of these teens can't see a positive future for themselves, we can. We can show LGBT youth the kind of happiness, potential, and satisfaction their lives hold if they can just get through these early years".
Adult
Trans Bodies, Trans Selves: A Resource For The Transgender Community (2014) – Edited by psychiatrist Laura Erickson-Schroth, it covers health and wellness for transgender people.
Parents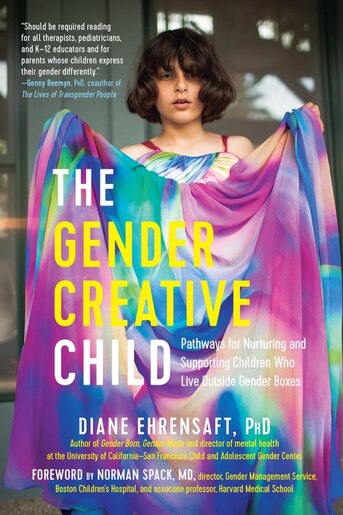 The Gender Creative Child: Pathways for Nurturing and Supporting Children Who Live Outside Gender Boxes by Diane Ehrensaft
Always My Child: A parent's guide to understanding of your gay, lesbian, bisexual, transgendered, or questioning son or daughter by Kevin Jennings *
At the Broken Places: A Mother and Trans Son Pick up the Pieces by Mary Collins and Donald Collins *
This is a Book for Parents of Gay Kids: A question and answer guide to everyday life by Dannielle Owens -Reid *
The Transgender Child: A Handbook for Families and Professionals by Stephanie A. Brill and Rachel Pepper * – "…for anyone with a child who is trans, might be trans, might be gender nonconforming…a culture-guide, a fear-allayer, a parent-empowerer, and an escort through the transgender".
Coming Around: Parenting Lesbian, Gay, Bisexual, and Transgender Kids by Anne Dohrenwend *
When your child is being bullied: real solutions for parents, educators and other professionals by J.E. DiMarco * – specifically Chapter 7 – Lgbt (Lesbian, Gay, Bisexual And Transgender) Children As Targets
The Unfinished Dollhouse by Alfano, Michelle (2017) * – "No parent is prepared for the moment when her daughter comes out to her–not as a lesbian, but as a person whose physical gender is out-of-keeping with his emotional and psychological gender-identity… what pronouns to use, how to disclose the information to friends, family, school. How to deal with the reactions–some of them surprising in a good way, some of them disappointing."